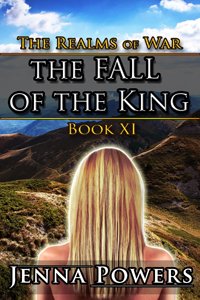 $2.99
The dangerous Lich King continues to terrorize...
Volume in series: 11
The Fall of the King (Jenna Powers)
Genres: Adult Suspense/Thrillers, Supernatural Erotica
Leila and her compatriots are being protected by the Treants Robyn found while she headed South. Unbeknownst to them, Robyn's deal for protection requires them to be able to help the Treants procreate. Leila finds out the truth but before she can fully discuss the repercussions of Robyn's deal they are ambushed by the Horde. To Leila's horror, an old friend reappears, helping to take them into custody.

Leila awakes to find herself captured by the Lich King himself. She is introduced to a familiar face, who is no longer the person she once knew.